Research Computing helps coordinate HMS Labs and Cores in their Electronic Lab Notebook (ELN) selection and implementation processes. If you are a PI, a Lab Data Manager, a Core Facility Director, or similar, and would like your group to start using an ELN, this webpage is for you. For more general information about ELNs, please visit the Harvard Longwood Medical Area Research Data Management website. 
What is an Electronic Lab Notebook (ELN)?
An Electronic Lab Notebook (ELN) is an electronic tool that in its most basic form replicates an interface much like a page in a paper lab notebook. In an ELN you can enter protocols, observations, notes, and other data using your computer or mobile device. ELNs offer several advantages over the traditional paper notebooks; they facilitate good data management practices, providing for data security, auditing, and collaboration. ELNs can also manage inventories of samples, reagents and other supplies, as well as keeping track of equipment and equipment maintenance schedules. Additionally, some ELNs provide specialist scientific tools for chemical drawing or molecular biology.
Our ELN Services
If you are an HMS PI, Lab Data Manager, Core Facilities Director, or similar, our ELN Subject Matter Experts will meet with you to understand more about your group's ELN requirements, and help you decide on an ELN Platform that meets your needs. Contact rchelp@hms.harvard.edu to arrange a consultation.
ELN Platform support
We currently support 2 different ELN platforms.
eLabNext – HMS Research Computing is supporting an on-premise implementation of eLabNext as a Pilot. The eLabNext platform's particular strengths are in tracking inventories of samples, supplies, and equipment and integrating them with experiments and protocols. We also would recommend this platform to labs or Core Facilities that may need to integrate with HMS file storage, or other HMS applications. On-Quad Labs, Departments, and Cores Facilities approved by the ELN Steering Committee are eligible to access the eLabNext Pilot free of charge. Visit eLabNext Research Application Platform for a more detailed description of the platform.

RSpace (Coming soon)- The RSpace platform is supported by Harvard University IT (HUIT) in conjunction with the vendor, the Countway Library, and HMS Research Computing. RSpace connects to external data sources, other research tools, and data repositories, to meet researchers' needs. HUIT provides an Enterprise Edition version of RSpace, and users would sign-in with their Harvard key. There is a per-user cost associated with this service that is available to Harvard University Schools and departments. Visit  RSpace ELN Overview for Prospective Users for more details, or contact david_heitmeyer@harvard.edu
eLabNext Pilot Onboarding
Research Computing provides onboarding services for participants in the eLabNext Pilot. Our onboarding service includes:
A kick-off meeting with ELN Subject Matter Experts and Product Owner
Training of Key Users
Leading Key Users through the steps to successfully implement the eLabNext platform
Collaboration with Key Users to find the best way to organize the group's notebooks
Importing existing samples and catalogues from .csv files
Account provisioning and troubleshooting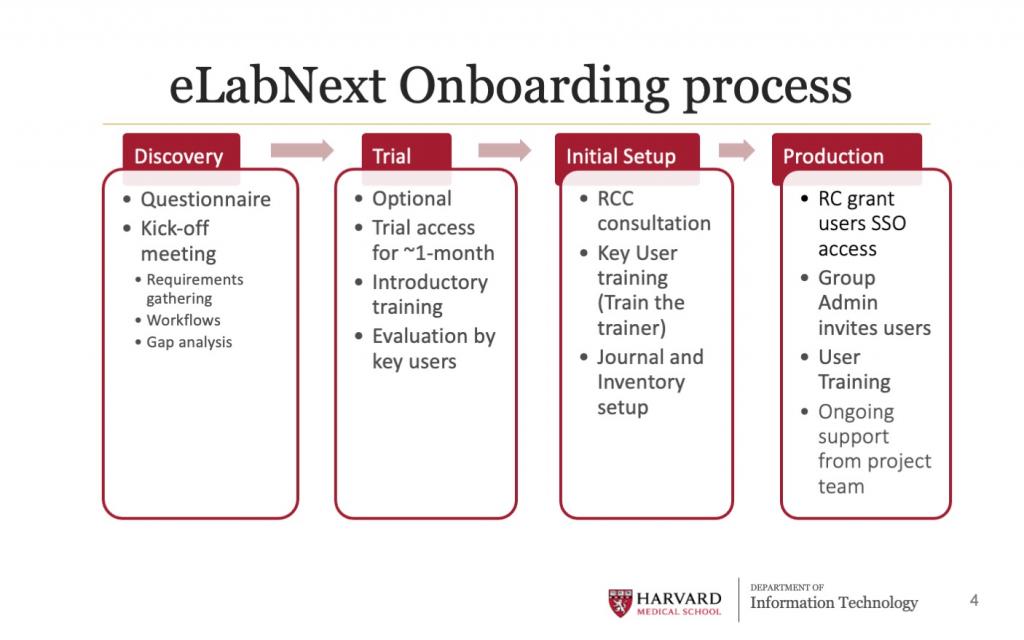 eLabNext Pilot Ongoing Support
Research Computing provides ongoing support for participants in the eLabNext Pilot. Our support service includes:
Monthly HMS eLabNext User Group meetings, where the project team will update users on product enhancements, and users can share their successes and questions with other labs and the project team
Ongoing account provisioning and troubleshooting
Ongoing support from the Project team with any questions about eLabNext and how to make optimum use of the platform
If you need features that are not currently supported, or integrations with other products, the project team will be happy to discuss these with you and coordinate with the vendor to find a timely solution.
eLabNext Pilot Offboarding
Research Computing recognizes the importance of securely offboarding users from all systems when they leave your lab. We have developed a process to ensure that all data remains accessible, and where appropriate, is transferred to a new owner.
eLabNext and RSpace Platform Comparison
About eLabNext
eLabNext is a Division of Eppendorf, their ELN platform consists of three integrated modules eLABJournal, eLABInventory, and eLABProtocols, along with a Mobile app and optional apps and connectors. To learn more:
About RSpace
RSpace focuses on integration with other products to meet researchers' needs. To learn more: